Hello !
I didn't find answers on french forums, so I try to explain my problem here... (and sorry in advance for traduction mistakes)
My system :
Intel Core 2 Duo E8500
2GB RAM PC6400
nVidia GeForce 8500 GT
Windows Vista 32 bits
Source :
Vids on a Blu-ray Disc --> H264 - 1920x1080p
Various soundtracks (LPCM, DTS, AC3)
Desired file :
Container : Matroska (.mkv file)
Video format : H264 - 1280x720p
Audio format : AC3 (french)
No subtitles
To create this desired file, I follow the steps which are in
this topic
Here are my screenshots to show you apps and settings I use.
First of all, I run BDinfo to identify the elements that I want to rip
AnyDVD HD must be started for next steps
I use tsMuxeR to remux the elements I need.
The objectif is to make a new m2ts container with the 1080p video and his french AC3 soundtrack only.
After that, I use MediaCoder to reduce weight and downscale the video (here 7.7 GB 1080p --> 2.3 GB 720p)... and to put all of this in a Matroska container (.mkv)
The settings :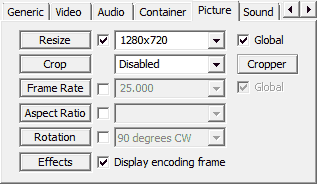 I do a test on 5 min to verify if settings work
No problem --> quality and weight are OK
But I have a problem when I try to apply the same settings on the complete m2ts (and not only on 5 min)
The two passes are completely done (after about 3 hours of work), but these messages appear :

What's wrong ??
Thank you for your help

Best regards,
Freezest